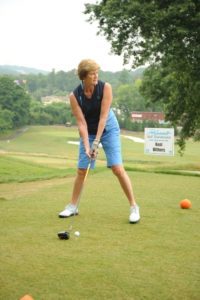 Excerpt from Knox News
Country music star Con Hunley was singing the praise Monday for the Helen Ross McNabb Center and Pat Summitt.
So were a lot of other people participating in the Pat Summitt Golf Tournament at Cherokee Country Club.
Hunley, who was born and raised in Knoxville, is a longtime friend of the former Tennessee women's basketball coach.
"I played music around here for years, and I used to do some celebratory events at her house after the basketball season and stuff, Hunley said before teeing off on the 10th hole. "We've known each other a long time. She's always been fond of my music, and I'm grateful for that. It's just a great thrill for me to be out here and be able to play in her tournament. It's a great turnout, too."
The tournament benefits Knoxville's Helen Ross McNabb Center, a not-for-profit community mental health care organization that has served East Tennessee since 1948. Summitt, who announced last August that she was diagnosed with early onset dementia, Alzheimer's type, stepped down after 38 seasons in April, but will remain with the Lady Vols as head coach emeritus. Summitt was not made available for comment Monday, but issued a statement through the Helen Ross McNabb Center.
"Every year, I enjoy hosting the Pat Summitt Golf Tournament to encourage others to help out the Helen Ross McNabb Center," Summitt said. "All proceeds from the event benefit mental health and addiction treatment programs provided in our community.
"As a proud citizen of East Tennessee, I believe there is no greater cause than providing children and adults the opportunity to be healthy and to live to their fullest potential. I am so grateful for the individuals participating in today's tournament."
Summitt has helped with benefits for the Helen Ross McNabb Center for more than 14 years.
"This is one of the many special elements in the life of a very, very special lady,' said UT athletic director Dave Hart, who played in the tournament. "She's a giver, and she's always been a giver. Anytime Pat's involved in something, you see the response. This is a very typical response. It's been going on for many, many years, and people want to be associated with Pat because of who she is." Knox County sheriff Jimmy Jones and Knox County attorney general Randy Nichols played in the foursome with Hunley.
"It's a great golf tournament,' Jones said. "We try to play in it every year. Helen Ross McNabb has done a great job in our community, and of course we love Pat. She put women's basketball on the map. We're glad to come out every year and support this. Summitt's golf game got some headlines June 8 when she made a hole-in-one at Sevierville Golf Club.
However, Summitt didn't play in her tournament Monday – instead meeting and greeting all the players and posing for photos with them.
"It's always fun to get into this tournament." Nichols said. "The money that Helen Ross McNabb raises and that Coach Summitt helps us raise just pays off for this community.
Literally, we couldn't function without Helen Ross McNabb, so we're glad to be here and contributing".
Back to 75th Anniversary