Gayle Lodato, McNabb Center Vice President, started her tenure at McNabb in 2002, working until 2005 when she left for UT College of Social Work. In July 2013, Mona Blanton-Kitts recruited Gayle to come back to McNabb to expand services in Chattanooga thanks to a merger with Fortwood Center.
Fortwood Center was established in 1947 and was the first outpatient mental health service in the state of Tennessee at the time. On April 1, 2013, the McNabb Center and Fortwood Center merged in order to increase the number of services provided to the greater Chattanooga-Hamilton County area. Services at the time of the merger included children and adult outpatient mental health clinics, group homes and a peer support center.
In addition to the merger with Fortwood, McNabb also merged with two other groups in 2013: Rosewood, a supportive living center that was included in the Fortwood merger, and Daystar, a counseling center that became McNabb's Athens, TN clinic. Three McNabb Center employees still work with us today from those 2013 mergers – Dianne Cagle, Nancy Cain and Delois Bernard.
Over the past 10 years, Gayle and her staff have been working diligently to fill the gaps in the community and provide new, innovative services in Hamilton and McMinn counties. Some programs that have been started in the past 10 years include one of only two therapeutic preschools in the state, the TN Move Initiative, integration into the school systems, Building Stable Lives and partnerships with the United Way, Family Justice Center and Hamilton County mental health court.
In January 2014, the first CARF survey was held at the McNabb Center, meaning that Hamilton and McMinn County staff had less than a year to prepare the programs and facilities for the audit, yet passed successfully. The CARF survey helped bring the McNabb Center culture and mission to the forefront of the newly merged organizations.
The McNabb Center currently serves approximately 3,000 clients in Hamilton County. A wide range of services is available from mental health care, to substance use treatment and social services.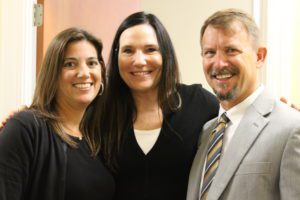 Back to 75th Anniversary